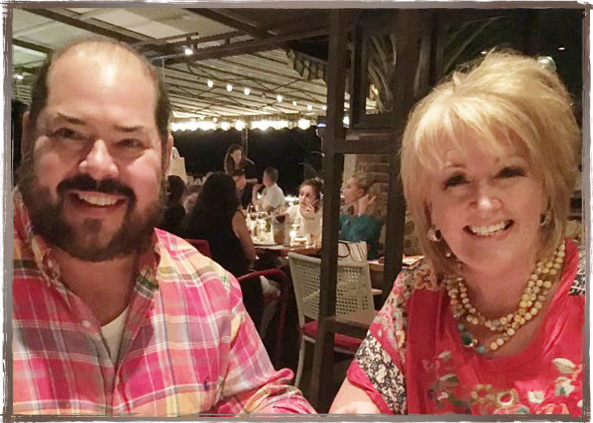 FOOD, FRIENDS AND FUN
In 1992 my husband and I opened a little restaurant in the back of my mom's gift shop on the historic town square of Waxahachie, Texas. We had a tiny kitchen with household appliances and quietly began preparing lunch each day for hungry tourists and townsfolk of Ellis County. To our delight, we found our 30 seat tearoom was filled with customers that loved our food and many more waiting to be seated. Within months my husband quit his full time job to take over the business end of things, while I began preparing as much food as possible each morning with a sweet little lady who would tirelessly appear each day to bake homemade pies, cakes and cobblers. We wondered at times if we had taken on too much of a task, but every month got easier, and the joy we brought to our satisfied customers made it all seem worthwhile.
"WITH ITS BOLD BLACK-AND-WHITE-CHECKERBOARD FLOOR… and walls painted with stylized birds and trees, The Dove's Nest has a French Country air."
– Texas Monthly Magazine
We had more than outgrown our tiny space when an opportunity came to buy the original hardware store building, built by the Moore family in 1913. Southeast of the town square our restaurant now occupies the saddle and tack room in our 12,000 square foot building and serves New Southern Cuisine to over 100 hungry mouths daily. We have a cookbook in its fifth printing, having sold over 40,000 copies and winning the National Writers Digest Grand Prize Award for self-published books. We have received three and one half stars in the Dallas Morning News, coined the phrase, "It's Worth Flying South" in the Fort Worth Star Telegram, and most recently, Texas Monthly magazine voted us one of the top ten best small town restaurants in the state. We have also been reviewed in Southern Living, Texas Highways and Better Homes and Gardens magazines, along with multiple appearances on Good Morning Texas and Good Day Dallas promoting our cookbook.
"Even before we ordered, we understood how the tearoom's popularity had forced such a move – warmth radiates from understated period decoration, and subtle lighting lends a gentle glow; a nice bonus is the adjoining antiques store. On top of that, every person we encountered was really sweet." – Fort Worth Star Telegram
My husband, Andrew, still runs the business side of things and we also have an antique furnishings and home accents shop housed in our wonderful old building, In the spring of 1998, we renovated the second floor loft and built a home that we share with our Rottweiler, Elsa. Our loft has been featured on Designing Texas and shot for numerous publications. On any given day you will find us working in one of our three businesses, along with other family members, friends, and loyal employees. We look forward to welcoming you to The Dove's Nest and our beautiful historic town square.
– Cindy & Andrew Burch